Sewer Rehabilitation
Geo-Mortar spray lining is a high performance, high strength, geopolymer mortar formulated as sprayable liner to restore deteriorated sewers and pipes.  Geo-Mortar bonds tenaciously to virtually any surface and can be used regardless of x-section (round, oval, rectangular or egg shape).
Geo-Mortar is a Cost effective and Environmentally friendly solution to serious deterioration problems of aging storm and water pipes, regardless of the existing conditions.
Geo-Mortar can be spray or spin cast applied in one pass to form strong and protective layer on horizontal or vertical surfaces, and cures quickly, minimising bypass time and allows service to be re-established much quicker than cement mortars.
The application provides trenchless system for repair of aging pipe infrastructure and allows spray application in-situ to restore strength and flow.  By not requiring digging, it practically eliminates traffic interruptions and eliminates greenhouse gas emissions caused by idling cars and trucks.
Geo-Mortar system delivers cost effective solution + cost savings to applicators & infrastructure owners.
Alternative solutions have significant environmental issues.  CIP liners use polymer resin containing styrene, which may leach contaminates into the water systems.
Spray applied Geo-Mortar lining is solvent  free and qualifies for LEED credits.
Geo-Mortar has better resistance to chemical agents and improved mechanical properties even in extreme conditions.
Key Benefits
Increases Structural Integrity
High Compressive & Flexural strength
Corrosion resistant in a high hydrogen sulfide environment (as low as 1.0 pH)
Resistant to acid in industrial effluent at temperature exceeding 285° F (140° C)
Extremely Low Permeability
Suitable for deep sewers & pipes and restricted access
Solid bond to any concrete and steel
Applied by Trowel, Spray or Spin-Casting
Significant Cost Advantages
Reduces Bypass Operation
Easily tackles irregular shapes, bends and intrusions
Eliminates Infiltration of Groundwater
Geo-Mortar is Eco-friendly with very low CO2 emissions.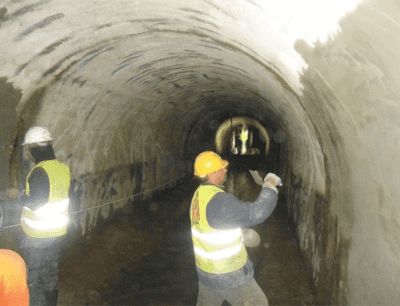 Sewer – Restoration & Waterproofing
Structural Strengthening
Corro-Mortar™ replaces polymeric (epoxy) systems that have been used in structural strengthening applications.
Corro-Mortar™ can be used with carbon and glass fabrics, and offers following advantages:
Ideal for Structural Reinforcing applications
Excellent fire resistance – retains 50% of its flexural strength after a fire
Does NOT Ignite, Burn, or release Smoke – even after Exposure to extended heat
Safe = Reduces fire hazard associated with polymeric (epoxy) coatings
Bonds to Wet & Contaminated surfaces
Bond to concrete is better & more reliable than organic polymer materials
Safer and User-Friendly Application
Significantly Lower Cost than polymeric (epoxy) systems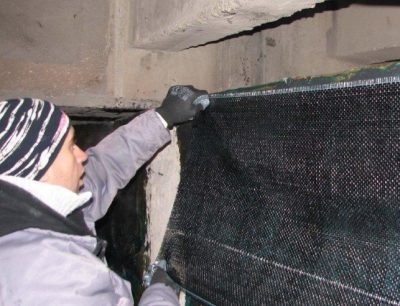 Bridge – Carbon Fabric Reinforcement
Other Markets for Corro-Chem™, Geo-Mortar™ or Geo-Cast™
Chemical Plants utilizing Inorganic Acids (sulfuric, hydrochloric, nitric and phosphoric acids)Chlor-Alkali, Phosphate Fertilizer, TiO2 & EDC/VCM  (Ethylene Dichloride / Vinyl Chloride Monomer)
Surface Protection & Secondary Containment
Acid Proof Construction
Mining – Hydrometallurgical Processing
Petrochemical processing
Flue Gas Desulfurization & Carbon Capture
Pulp and Paper
Acid Resistant Brick & Tile
Polymer Concrete Replacement
Thermal Insulation materials
Manholes, Culverts & Tunnels
Tanks for Chemical Liquids
Fireproof systems
Radioactive substances Containment & Encapsulation systems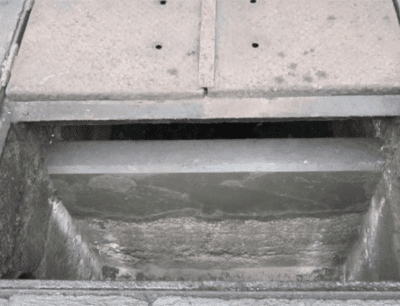 Pit Sarnia – after application of Corro-Chem™ 100